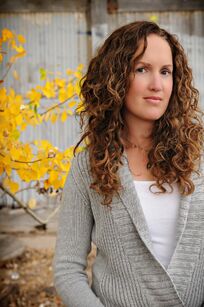 Becca Fitzpatrick (born February 3, 1979) is an American author, best known for having written the New York Times bestseller, Hush, Hush.
Personal life
Edit
Raised in North Platte, Nebraska, she graduated in April 2001 from Brigham Young University with a degree in Community Health, and went to work as a secretary, teacher, and accountant at an alternative high school in Provo.
In February 2003, her husband enrolled her in a writing class for her 24th birthday. It was in that class that Fitzpatrick startwriting Hush, Hush.
She has also written Black Ice and Dangerous Lies.
Published works
Edit
The Hush, Hush series
Edit
1. Hush, Hush 
2. Crescendo 
3. Silence
4. Finale
Black Ice
Edit
Kiss Me Deadly: 13 Tales of Paranormal Love
Edit
A compilation of 13 short stories written by different authors: Fitzpatrick,  Caitlin Kittredge, Karen Mahoney, Justine Musk, Daniel Marks, Diana Peterfreund, Sarah Rees Brennan, Michelle Rowen , Carrie Ryan, Maggie Stiefvater, Rachel Vincent, Daniel Waters and Michelle Zink.